Madura Mag Pro Theme
A Premium WP News Magazine Theme
---
Thanks for purchasing the World's Fastest Magazine Style WordPress theme. If you have any questions that are beyond the scope of this help file, please feel free to post your question in support forum. Thank you so much!
Support
We are always ready to give free and Unlimited support to all of our themes.
We Are Just a Click Away:)
Use our Support forum to Ask your question. Only Verified Customers can create support question. So, please use this to get support quickly.
Installation
---
The theme can be uploaded by using the following two ways:
Upload via WordPress Dashboard:(Recommended)
Please Extract the Theme Zip file from the Theme Package and upload that Zip file. Don't Upload the entire Downloaded Theme Package.
First login to your WP Dashboard and then Navigate to Appearance > Themes.
Then click the Install Themes Option and then Select the Upload Option
Go to choose file , and select the zipped Madura Mag Pro Theme folder. Hit Install Now and the theme will be uploaded
After the theme is uploaded, hit the Activate Link. Once you activated, Theme Admin Panel will open automatically.
Upload the Theme Via FTP :
Download the theme from your Account, extract the zip file from that Package to your computer.
Using your FTP client like FileZilla, login to your FTP Account.
upload the non-zipped theme folder into the /wp-content/themes/folder on your server. This may be difficult for some users.
Import Demo Data
---
Demo data will create Madura Mag Demo like site. So Don't use this file, if you have existing blog content already.
Madura Mag Pro Theme theme comes with demo data xml file, it includes the sample posts and images to get start your theme.
Browse the folder Demo Data in the unzipped main theme folder, and find the demo_data.xml file.
Go to Tools > Import . Then click on "WordPress" and install the Plugin.
Then browse the demo_data.xml file and Import the file.

Theme Admin Panel
---
After the successful activation, you will be automatically redirected to the Themes page.In WP dashboard go to Theme panel; Theme Admin Panel has so many useful options like logo,favicon and background uploader etc...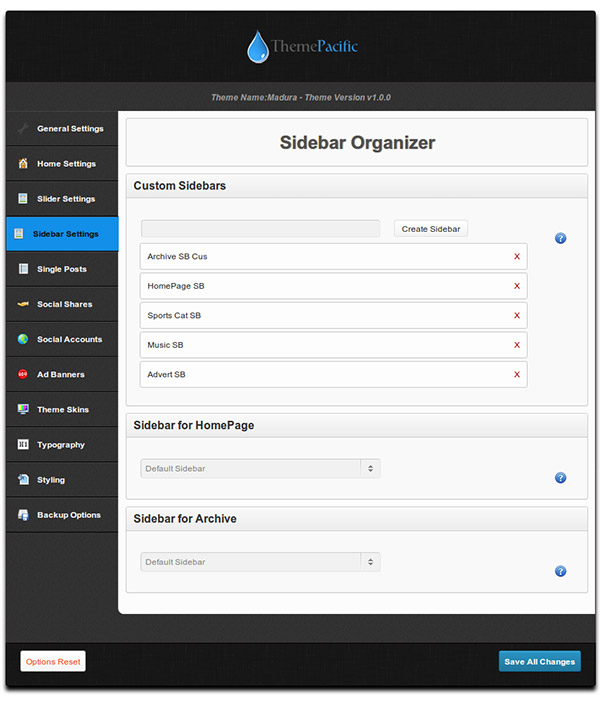 Manually you can access the Theme Admin panel in the bottom of the Left side WP Dashboard. Also you can access directly from the WP Toolbar
Do you want to know how to implement settings in the Theme Admin Panel ? Read the whole documentaion and all settings in the Admin panel all covered here.
Content Layout
---
Theme Offers Two column layout. One column for content and another one for Sidebar.
In Madura theme, you can use the sidebar in three positions,
Right Sidebar
Left Sidebar
Without Sidebar(Full Width)
You can also use the above positions in every page, post.
Homepage Settings
---
Homepage content organizer has the drag and drop option to enable/disable the web elements in this theme.
The organizer will look like the following screenshot and follow the instructions provided in the screenshot.
Magazine Style + Blog Style
Magzine style cotent section has two Magazine style blocks for convenient usage, such as Magazine style 1 and Magazine style 2.
See the below screenshot to implement the Magazine section in your site.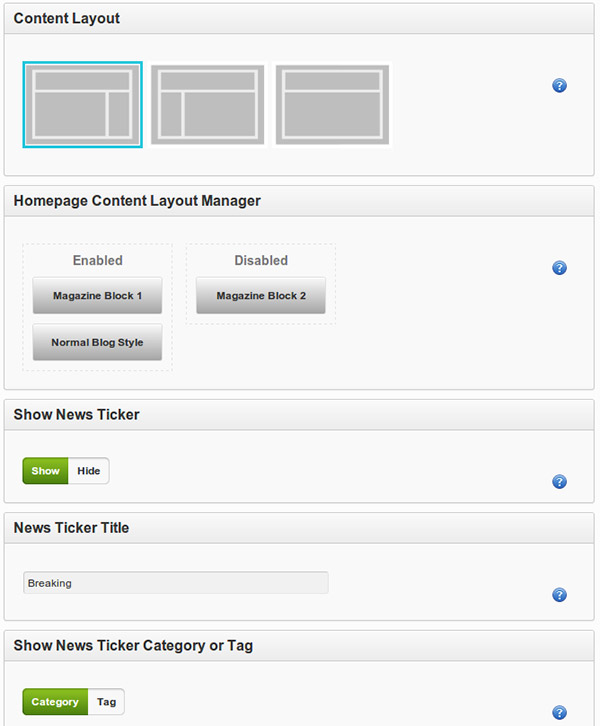 You can create more layouts,it depends on your imaganiation,
Normal Blog style + Magzine style combination
Magzine style + Normal Blog style
Slider + Magzine style + Normal Blog style
Normal Blog style + slider + Magzine style
and more..
Layout Blocks as widgets
You can fill the above layout combinations with the following blocks(widgets)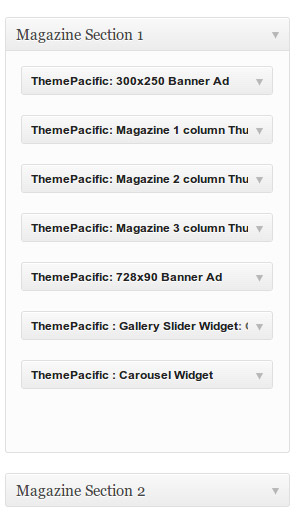 Magazine 1 Column Block
Magazine 2 Columns Blocks
Magazine 3 Columns (Grid) Block
Slider blocks

Gallery Slider block
Category Slider block

Carousel block
Ad Blocks (You can create more 10+ Ad blocks)
Many Layouts
You can style your blog using content organizer to get many different layouts in homepage. Look out below for few layout combinations i have made.
Some Example Layout Combinations
Home Page 1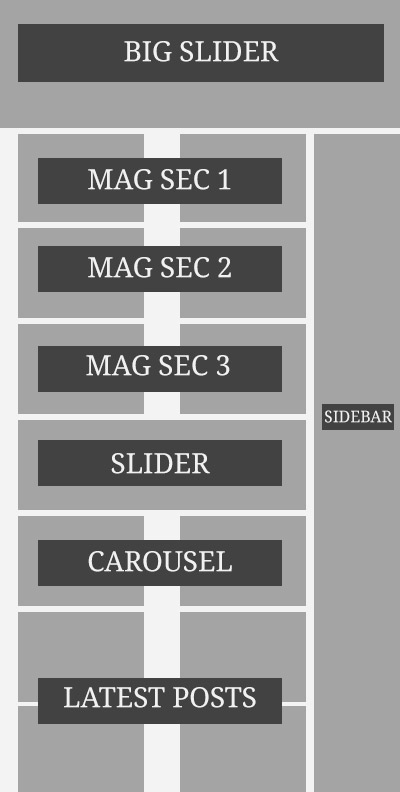 Home Page 2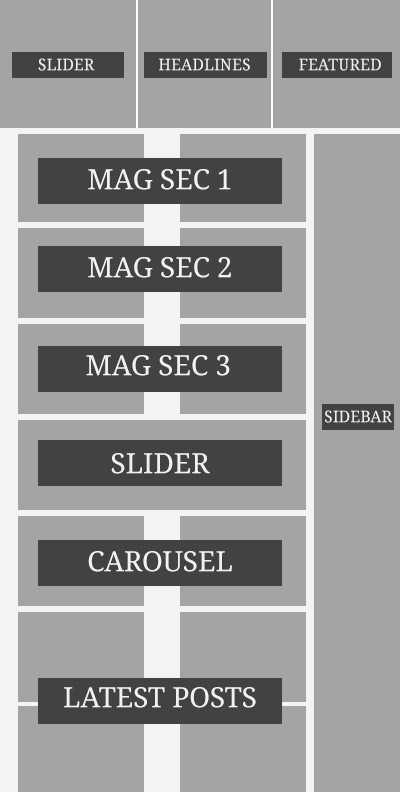 Live Demo Links
You can put above blocks anywhere and You can put many Magazine widget options to build unique layouts.
Sliders
---
Theme comes with two types of Slider
1. Flex Slider
2. Camera Slider
Basically Theme includes following different formats of slider. It has,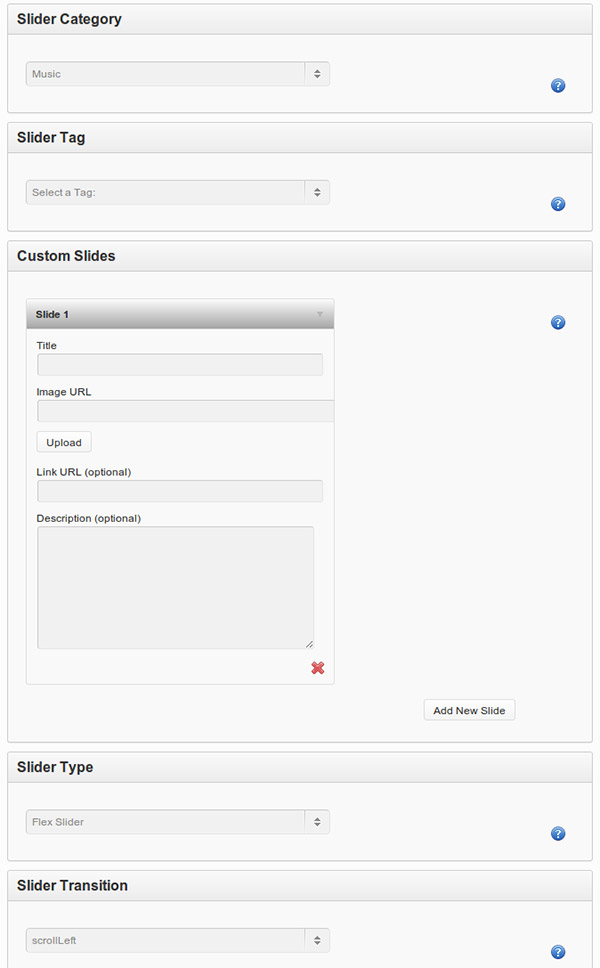 Homepage Page (Large and Small Sliders)

Featured Slider
Category Slider
Tag Slider
Custom Slider(Create Your Own Slides in theme Panel)

Category Page

In Category Page, theme allows you to show Big and small sliders of category posts. You can Turn off and On the slider from edit category page.

Edit Category

Single Post Slider

In Single Post, you can create your own custom slider from post options. This Slider will be displayed in the features Image section.

Gallery Format Slider

Gallery Format Slider will display the big slider in the Gallery Post.
Let us see the instructions for how to implement those sliders in yout site.
Homepage category slider
You can see the screenshot of Home Page slider in Homepage organaizer section.

Enabling the slider is very easy by using Theme Admin Panel.

You can use Home Page slider as a Category Slider or individual posts or Pages slider. First let us see how to use as category slider.
Step 1 : Enable the Home slider in Home Settings Tab section.
Step 2 :Tick the checkbox that shows enable or disable HomePage slider.
Step 3: select your desired category from dropdown menu
Step 4: : Click Save changes.

Post formats
---
Theme Supports following post formats,
Image - Demo
Video - Demo
Audio - Demo
Gallery - Demo
Page templates
---
Page Templates are used to achived different Page Layouts and functionalities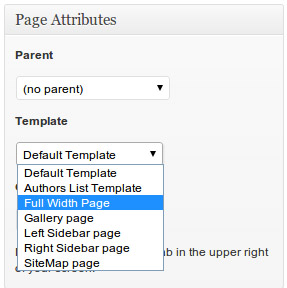 You can assign a custom template for any individual Page by using the Template dropdown in the Edit Page screen (part of the Page Attributes module):
Select a Template from the list (e.g., My Custom Page).
Click the Update button (or Save Draft if not yet published).
Reviews
---
You can easily create Reviews in the edit post page. Just move to the Post Rating options and create awesome reviews.

DEMO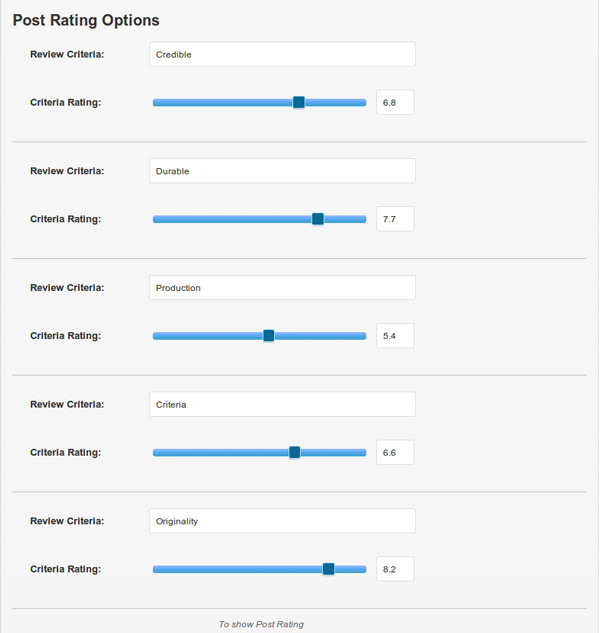 Post Thumbnails
---
Themes all thumbs are shown using WordPress Featured Image Property . It is easy to set Featured Image in Posts.
When you creating the posts in the post editor, you can see the SET FEATURED IMAGE section. Just hit the SET FEATURED IMAGE link and upload the featured image.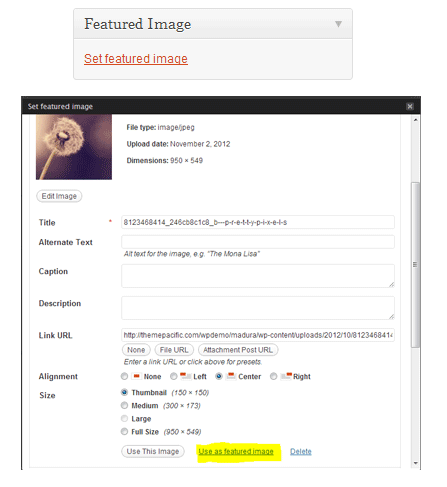 Themes all Thumbs and slider images are shown using this method only except post slider and Theme Slider
Stylish Image Galleries
---
Now Transform Your Ordinary Image Galleries into something Awesome and stunning Full Screen Galleries. To Get this carousel style image slideshow, you need to install Jetpack plugin by WordPress.
1. Download and Install Jetpack Plugin, connect your site with WordPress.com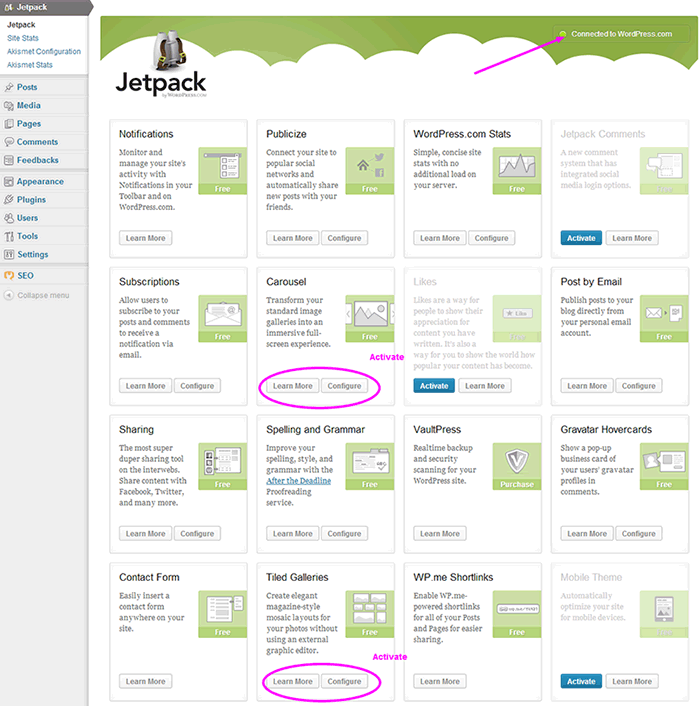 2. Open the Jetpack page from WP Dashboard
3. Now Activate the Carousel and Tiled Galleries Module in that page (See Screenshot above)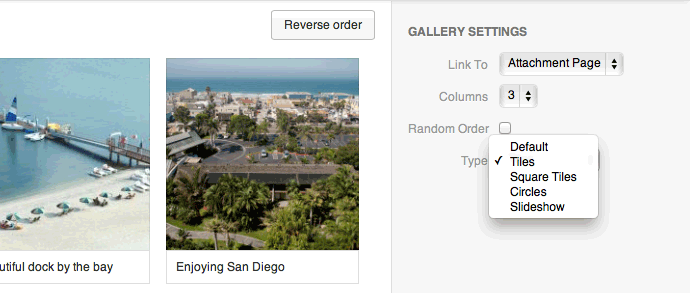 4. Create Gallery in the Post,and change the settings of gallery to Square Tiles etc..
5. Then Update the Post and open that to view the Stylish Gallery
We are creating the stand-alone Image Gallery Script that will be integrated with next theme update of Madura Mag Pro so that you don't need above steps or plugins to get this stylish gallery.
Right-to-Left Language Support
---
NOTE: RTL Support will be added in the next update.

A written language is Right-to-left when its script flows from the right side of the page to the left.

Now the Arabic, Hebrew Languages are supported in our Madura Mag pro WordPress Themes. If you have installed the RTL version of WordPress, this theme will automatically change the layout to support RTL.

See the Screenshot below:

You can change the english words to your language using the following Localization support.
Localization
---
This theme has localization support by including .po and .mo files. So that You can utilize this and translate to your language by using the POEDIT Application.
This theme has language files in Languages folder inside Madura Mag Pro Theme folder.
Follow the instructions to translate this theme,
Step 1: Download POEDIT Application and install the same.
Step 2: Find the Default.po file in the Languages folder of Madura Mag Pro Theme Theme. open this file using POEDIT Application.
Step 3: Just click the text you need to translate and enter your translation in the spcified window.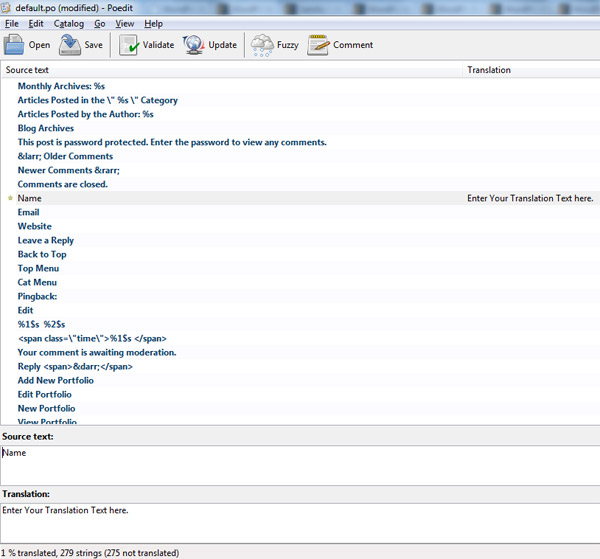 Step 4: Save the .po file with your language and country code.
For example, if your language is French and France is your country of residence, your code will be fr_FR. Get your country and language codes by using the links. Your .po file should be saved like fr_FR.po. Your .mo file will be automatically created.
Step 5: Replace the old .po files with new one in Madura Mag Pro Theme languages folder.
Step 6. Next edit your wp-config.php file in WordPress directory.
Find the following code in wp-config.php
define('WPLANG', '');
and replace with your country and language name like above example i said.
Example:
define('WPLANG', 'fr_FR');